Seasonal and Holiday
---
Halloween Bell Pull

Price:
Chart Only: SE-001
Kit Only:      n/a
56 stitches wide by 297 stitches high
Model is stitched with DMC floss, Kreinik #4 Braid, and Mill Hill Buttons on 27 count Stitching Band "Checkers" (#MH08/47/0233). Mill Hill Buttons and Fabric from Wichelt Imports, Inc.
---
Halloween Kitties Collection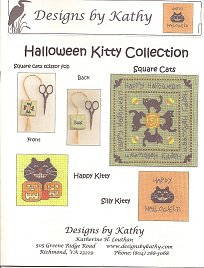 Price:
Chart Only: SE-002
Merry Christmas Bell PullKit Only:      n/a
A portion of the profits will be donated to Richmond Animal League.
A collection of designs using different fabrics, fibers, and finishing techniques.
---
Merry Christmas Bell Pull
Price:
Chart Only: SE-003
Kit Only:      n/a
56 stitches wide by 383 stitches high
Model is stitched with DMC floss and gold Mill Hill Beads from Wichelt Imports (#00557) "over 2" on 28 count Jobelan "White" from Wichelt Imports (#429-000)
---